Phospholipids and Lipids for LNP and Liposome
Using the world's most advanced synthetic and purification technologies, NOF manufactures and supplies a series of highpurity lipid derivatives (COATSOME® Series) suitable for the formulation of lipid nanoparticles for nucleic acid and gene therapy drugs, liposomal and emulsion formulations for small molecule drugs.
Especially for the lipid nanoparticle formulation, We offer our proprietary ionizable lipids (COATSOME® SS Series) which enable efficient delivery of nucleic acids and low toxicity.
In addition, we can respond to requests from our customers with tailor-made synthesis of any phospholipids with the desired structures.
NOF's Capabiliteis and Customer Advantages
cGMP Manufacturing Facility
Bulk phospholipids produced at our own validated facility under cGMP operation have been supplied worldwide for commercial drugs with long-standing reputations for quality and reliability for many years.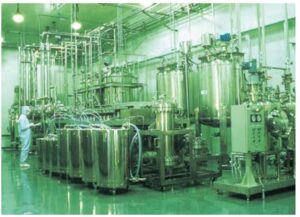 Drug Master Filings
NOF has already submitted more than 35 DMFs regarding various kinds of NOF manufactured phospholipids to the US FDA, so that customers can rely on our quality. We submit DMFs according to customers' requests and development needs.
Custom Synthesis
Custom synthetic phospholipids and lipids can be produced at customer's request.